COMMUNITIES OF PRACTICE
FOR EFFECTIVE PARTNERSHIPS (COPE) ACTIVITY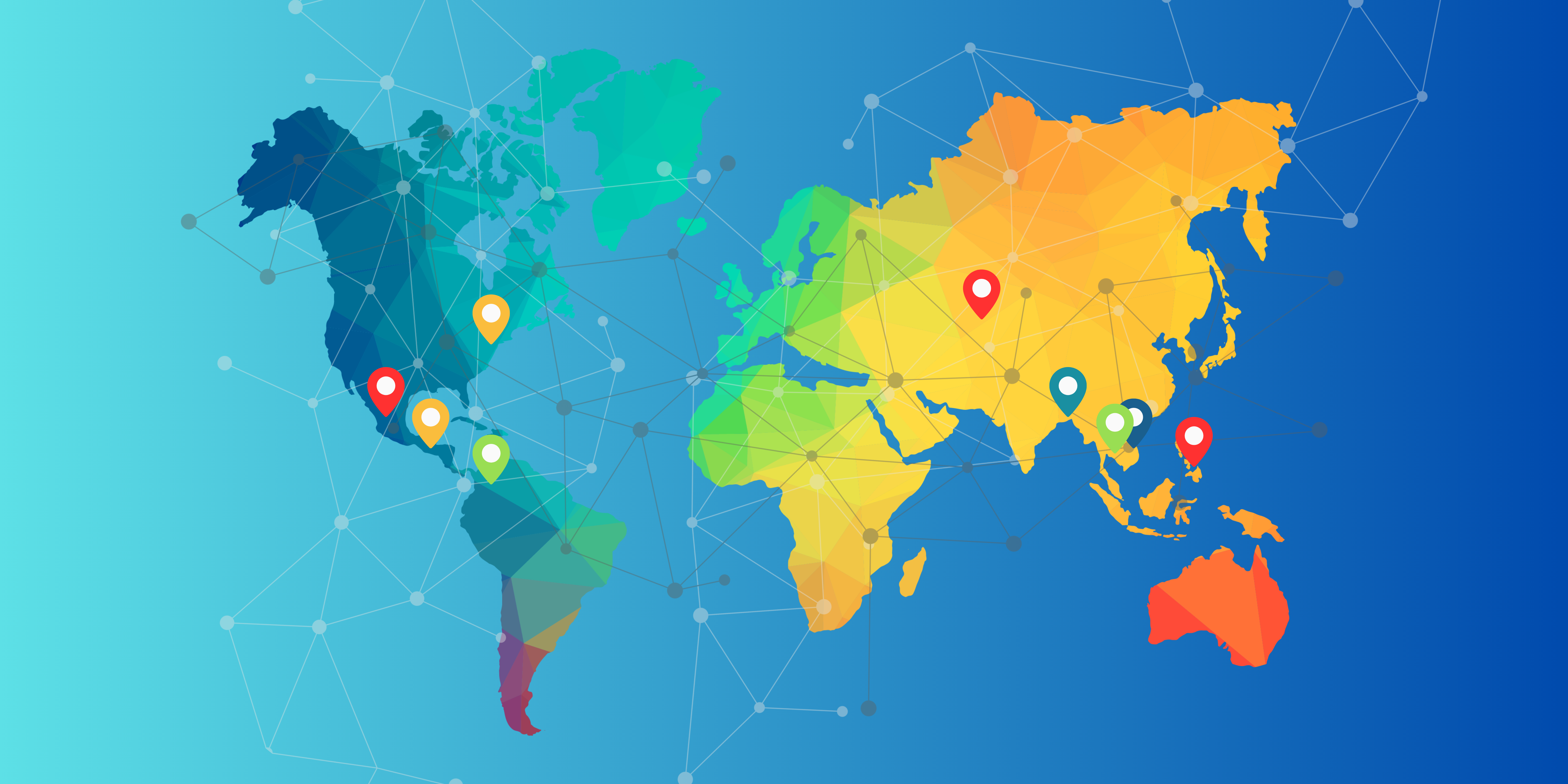 COPE is an international community of practice that supports the use of systems thinking in addressing local development challenges.
ABOUT
The Gerry Roxas Foundation (GRF) was awarded a Fixed Amount Award by the United States Agency for International Development (USAID) on December 20, 2022, to implement the Communities of Practice for Effective Partnerships (COPE).
COPE supports the development of an organic South-South community of practice for local organizations to strengthen their capacities in systems thinking approaches to solve their communities' development challenges. Sustainable communities of practice take time to develop organically.
Through COPE, local organizations from eight countries across Asia and Latin America come together to learn from and support each other. Together, these diverse organizations are innovating, sharing, and learning about systems, tools, and approaches to address local priorities and needs.
The COPE activity is implemented in partnership with LINC, LLC and Corporacion ECOSS.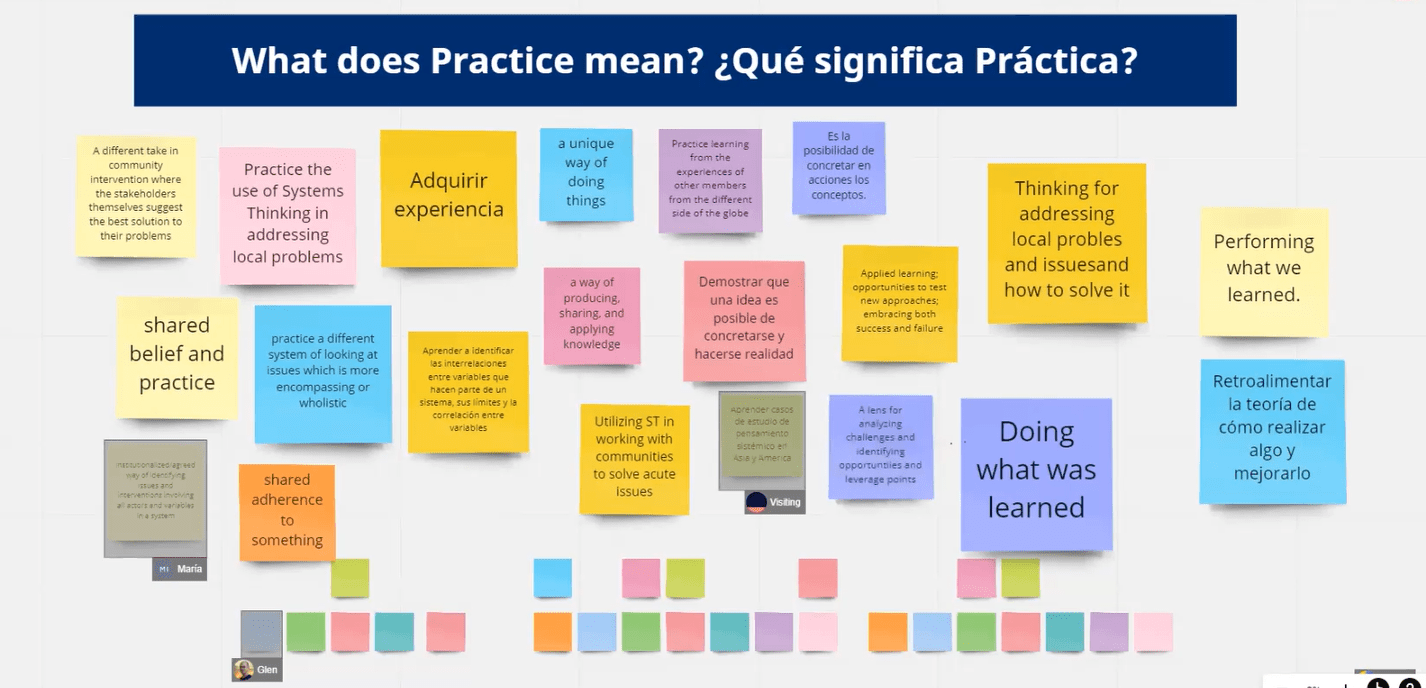 APPROACHES
Can communities of practice of local organizations be an effective, efficient platform for USAID to engage directly with local actors?
The potential is there. To explore this question, COPE is:
Building a community of practice: local organizations are growing from and learning with each other.
Leveraging existing digital infrastructures for collaboration: technology facilitates collaboration while allowing on-demand access to resources for partners.
Building a robust monitoring and evaluation system: collaboration, learning, and adapting is at the center.
Strengthening local capacity: COPE supports individual and collective capacity to address complex, transboundary, and cross-cutting issues
Promoting systems thinking: demonstration projects exemplify how and why to take a systems approach
THE CONSORTIUM MEMBERS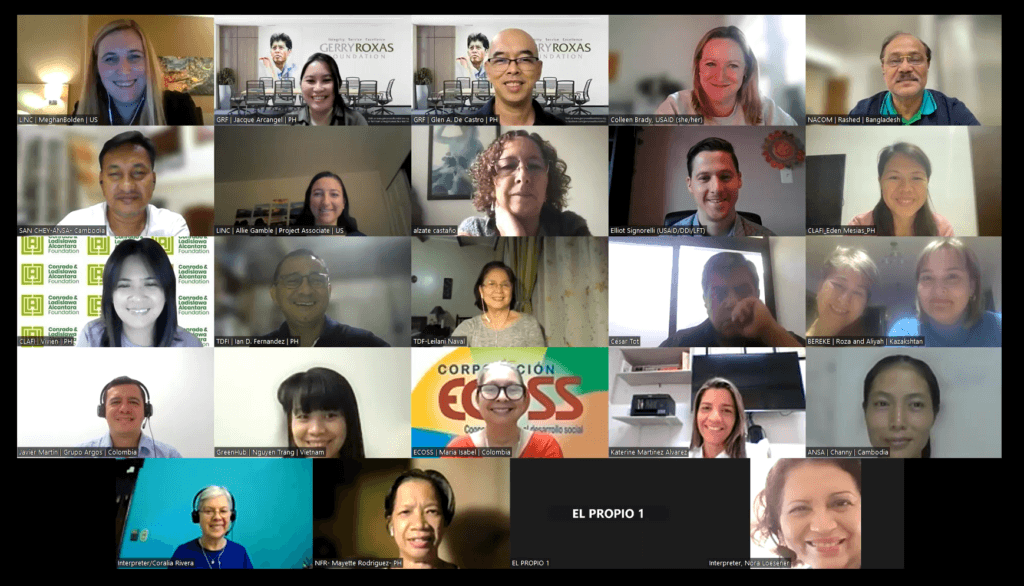 A screenshot of members from around the world during the first virtual COPE gathering.
Prime Partner: Gerry Roxas Foundation
Latin America Coordinator: Corporación ECOSS
Resource Partner: LINC LLC
Latin America:
Corporacion ECOSS (Colombia)
Grupo Argos S.A. (Colombia)
Corporación Conciudadania (Colombia)
Fundación Hijos de la Sierra Flor (Colombia)
Fedecovera, R.L (Guatemala)
Cecropia (Mexico)
Asia:
Conrado & Ladislawa Alcantara Foundation(Philippines)
Curiosity (Philippines)
Gerry Roxas Foundation (Philippines)
MINCODE (Philippines)
NGOs for Fisheries Reform (Philippines)
Tropical Disease Foundation Inc. (Philippines)
Tuason Development Foundation (Philippines)
Affiliated Network for Social Accountability (ANSA) (Cambodia)
Public Association "Bereke" (Kazakhstan)
Greenhub (Vietnam)
Nature Conservation Management (NACOM) (Bangladesh)
Stay tuned for the upcoming COPE Knowledge Hub!