PRESS RELEASE
31 May 2022

Butt watch in Boracay anyone?
(Not what you think)
MANILA, 31 May 2022: Boracay's fabled beaches are still immaculate vistas of soft white sand. But just beyond that, the island's interior public spaces feature toxic trails of discarded cigarette butts. Cigarette litter is an overlooked but major source of pollution on the island and around the globe.
Boracay's beaches have been saved so far by a strictly enforced smoking ban on the shore, perhaps even a model for other beach destinations. But the island's commercial spine a few meters from the white sand is a smokers' haven where they can light up and throw their cigarette butts nearly anywhere they please.
A new study sought to measure what is already a blight to the eye.
An April 2022 survey by the Gerry Roxas Foundation ("GRF") found that an estimated 35,000 cigarette butts are littered every day in Boracay despite the ban, equivalent to about 12.55 million cigarette butts littered per year.
The study further found that about 33 to 49.6 billion cigarette butts are littered every year in the whole Philippines, based on its review of 2015 cigarette consumption data in the country.
Cigarette butts are a common type of hazardous waste because they contain nicotine, heavy metals, and other toxic chemicals that leach into the environment and are dangerous to marine life. Moreover, cigarette butts are made of cellulose acetate, a type of plastic which is non-biodegradable and ends up polluting waterways, oceans, and beaches, even when not directly thrown there. They can poison waterways, and especially Boracay's newly rehabilitated inner wetlands.
Cigarette litter can make people and animals sick.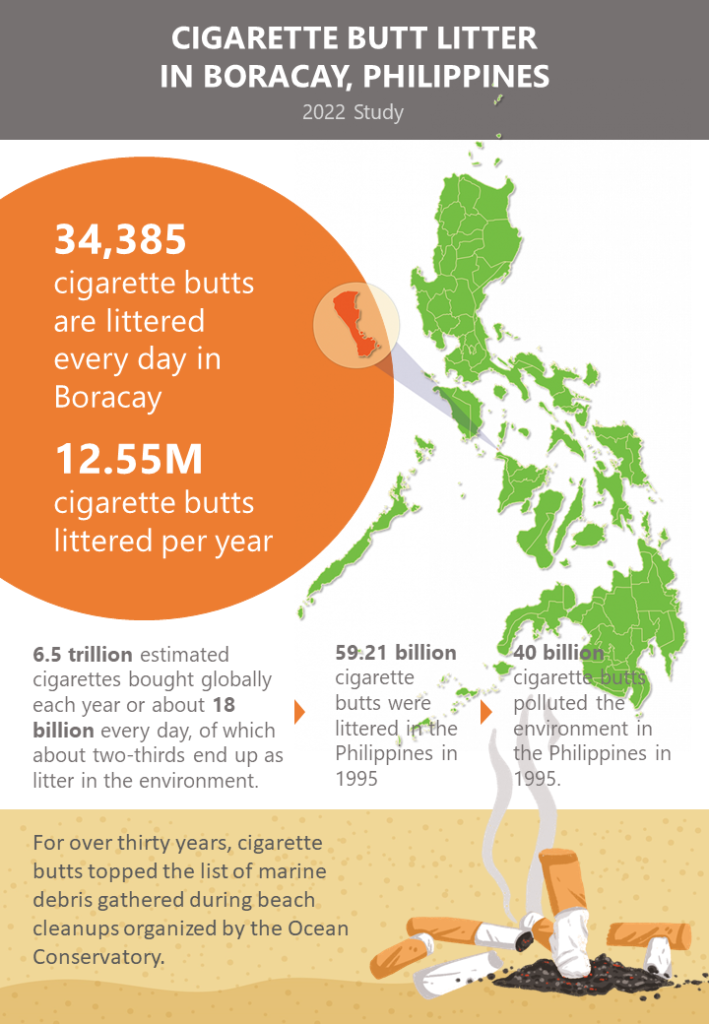 A stain on our beaches
GRF's study confirms reports of the Ocean Conservancy on its annual worldwide beach cleanups, where cigarette butts regularly topped the list of littered items picked up on beaches over 30 years. As early as 2010, the Philippine Department of Environment and Natural Resources ("DENR"), together with the EcoWaste Coalition, a Philippine non-government organization, already sounded the alarm as they highlighted that cigarette butts constituted the second most common form of litter in the Philippines.
"We'd like to call on local governments and businesses to adopt a ban on smoking in all tourist areas. And those already with the ban, we encourage the LGUs to strictly implement it. The ban will not only protect our tourists from the harm that smoking brings but will also keep our beautiful beaches free of cigarette butts' poisonous stain," said Glen A. De Castro, Executive Director of GRF.
Among other proposals (see below), the GRF is urging the Philippine government to ban plastic filters on cigarettes to reduce the impact of littering; and impose a cleanup tax or fee on each pack of cigarettes to cover the cost of cleaning up after smokers.
For degraded butts, microplastics cleanup is almost impossible and these can enter the food chain. The danger from cigarette littering is not just from bio-accumulation, causing a gradual harm over time, but from the more immediate poisoning due to accidental ingestion. Children, especially those below six years old, have been known to mistake butts for food, causing symptoms of poisoning and even death. Cigarette butts have also been found in digestive systems of pets, fish, and wildlife.
Pieces of electronic cigarettes ("e-cigarettes") are also starting to be found on beaches, causing a slew of new environmental problems.
Cleanup of butts a huge cost
The cleanup of cigarette butt litter moreover entails huge economic costs, which at present are unfairly shouldered by the Philippine government and all taxpayers, smokers, and non-smokers alike. Cleanup of newly thrown butts has a high cost in personnel, shipping the trash out of the tourism areas, and tipping fees for landfills. In the US, a study found that the total annual cost for large US cities ranged from USD4.7 million to USD90 million per year (PHP235 million to PHP4.5 billion per year), varying only as to population size and smoking prevalence rates. The total cost for 30 US cities combined was estimated at USD264.5 million per year (PHP13.225 billion per year). As early as 2009, the total cost for cigarette butt litter abatement in San Francisco was computed at USD6.5 million (PHP325 million).
The environmental impact of tobacco actually spans its entire life cycle which the World Health Organization ("WHO") divides into five key stages: (1) growing and curing; (2) product manufacture; (3) distribution and transportation; (4) product consumption, including second-hand and third-hand smoke exposure; and (5) post-consumption tobacco product waste disposal. The tobacco industry contributes to climate change, releasing the equivalent of 84 megatons of carbon dioxide every year.
In its 2022 study, the GRF recommends several courses of action, including but not limited to the following:
Ban smoking in all tourist beaches and coasts, as well as other protected areas.
Strengthen the implementation of the WHO Framework Convention on Tobacco Control ("WHO FCTC"). The WHO FCTC is proven to effectively reduce tobacco use, which will have the beneficial effect of reducing cigarette butt litter and tobacco waste in general.
Ban plastic cigarette filters. In the Philippines, there have been several bills filed in Congress that propose to regulate plastic products in general. Cigarette butts should be included within their scope.
Impose a per-pack fee on cigarettes, the proceeds of which shall be used to cover the costs associated with cigarette butt litter. As early as 2009, the local government in San Francisco, California adopted such a measure, which started at 20 cents per pack after estimating the total cost for its cleanup. Now the per pack fee is at USD1.05 to keep up with the increasing costs of managing such waste.
Develop and/or improve enforcement of laws against littering, especially with respect to cigarette butts.
The study is being released in time for World No Tobacco Day, May 31 when the theme is tobacco and the environment.
Download the full research paper here:
This report is supported by STOP, a global tobacco industry watchdog.