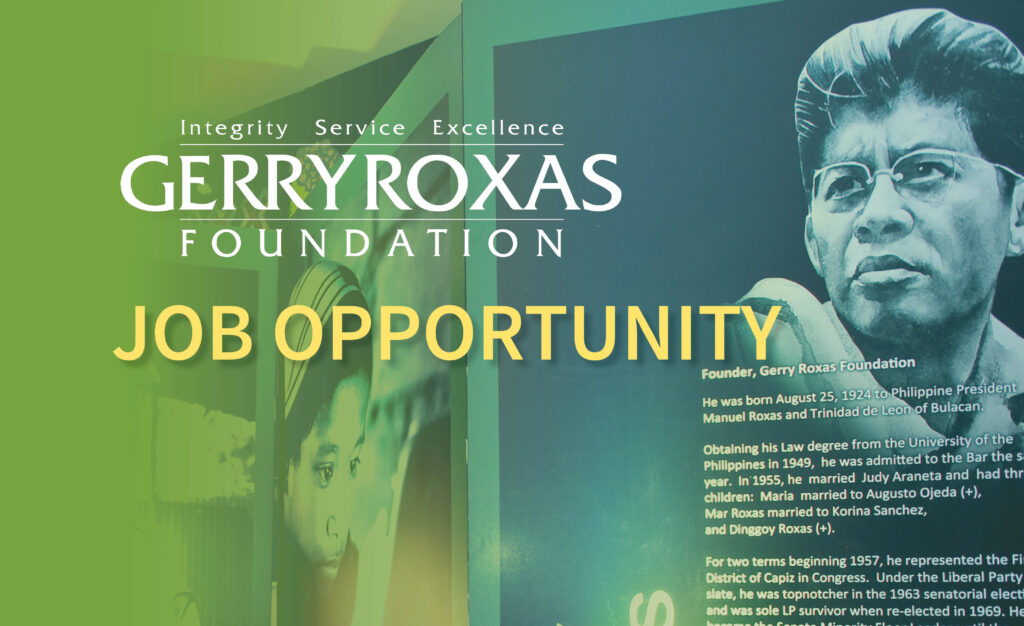 Position: Events Assistant
Area of Assignment: Quezon City
The Hub is the newest Learning Center managed by the Gerry Roxas Foundation. It offers modern and dynamic spaces for meetings, training, co-working, and social events. GRF is currently seeking an Events Assistant to provide support to the Sales and Events Manager in managing events at The Hub.
Duties and Responsibilities
Specific duties include:
Assists the Sales and Events Manager in the following tasks:

Marketing and promoting the facilities and services of The Hub
Preparing budget and packaging proposals for event management services based on client's requirements and ensuring adherence
Sourcing out and negotiating with vendors and suppliers such as catering services, hotels, photo/video documentation, and other requirements for social events
Responding to client inquiries and presenting facilities and services

Coordinates with suppliers and vendors and staff during events to ensure smooth execution of client requirements;
Prepares purchase requests for materials required for the event and process liquidation report after each event;
Ensures smooth coordination with technical and partner food catering services at every event and informs the Sales and Events Manager of any problems that might occur.
Responsible for the inventory and custodianship of equipment and other materials in the training rooms;
Acts as the custodian of the petty cash fund of the Training Center;
Prepares client's statement of account or billing statement;
Collects and follows-up payments from clients and endorses to Finance Unit for official receipt issuance;
Prepares payments for utility and other administrative expenses incurred for the operations of the Training Center; and
Performs other tasks as assigned by the Sales and Events Manager.
Qualifications
Graduate of a degree in Hotel & Restaurant Management, Sales, Business Management, or any related field;
Strong organizational, planning, and customer service skills with keen attention to detail;
Effective communication and presentation skills;
Proficient in MS Office applications; and
Values integrity and excellence in service to clients.
Submission Instructions
Interested applicants should send their Curriculum Vitae and a cover letter highlighting relevant experiences. Include a list of three references with contact information. Only short-listed applicants will be contacted by GRF.
Send applications via email to: [email protected].
The deadline for applications is at 5:00 PM, December 16, 2022.
Email subject format: [Position applied for]_[Lastname, Firstname]