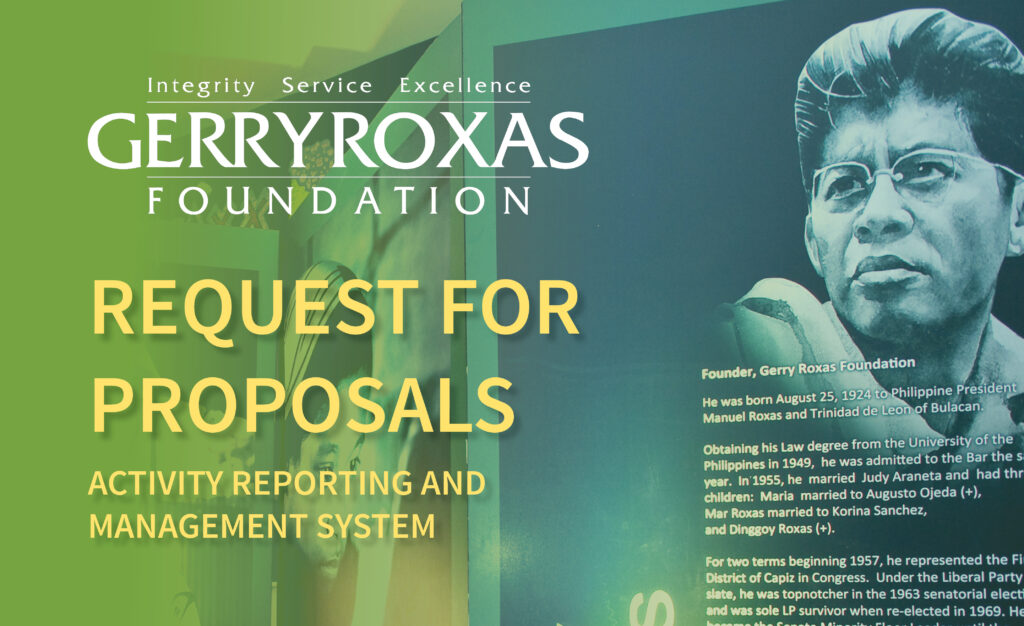 REQUEST FOR PROPOSAL (RFP)
Service Providers for the Design and Development of an Activity Reporting and Management System
Date Posted: 03 February 2023
Deadline of Submission: 10 February 2023
Overview
The Gerry Roxas Foundation (GRF) was awarded a cooperative agreement by the United States Agency for International Development (USAID) on Sep. 14, 2021, to implement the Investing in Sustainability and Partnerships for Inclusive Growth and Regenerative Ecosystems or INSPIRE Project (INSPIRE). The USAID INSPIRE project is implemented in partnership with the Center for Conservation Innovations-Philippines (CCIPH), the Communication Foundation for Asia (CFA), and the Philippine Council for NGO Certification (PCNC). The project seeks to advance natural resource resilience and security through the increased participation and engagement of civil society organizations (CSO), media, academe, and local communities in natural resource governance.
Gerry Roxas Foundation invites qualified service providers to submit a proposal for the design and development of an activity reporting and management system for around thirty (30) grants supported under the project. The system will support activity planning, preparation, implementation, and reporting of grantees under the INSPIRE project.
Scope of Work
Scope of work for the engagement includes:
Design
Draft forms for the collection of activity information, based on agreements with the INSPIRE team including prerequisite documents for activities (e.g., gratuitous permit, FPIC)
Design process flow for the monitoring system
Design a system with data capture forms for a determined set of performance indicators
Design general clustering of activities based on required disaggregation of indicators
Design a reporting module that would consolidate reports from all grantees under INSPIRE
Enable administrator and monitoring dashboards for INSPIRE officers
Design a system that is amenable to planned extensions, additions, or revisions
Development
1. Develop the activity reporting and management system, with the following specifications:
In-house (on-premise) application that users can access
Ability to capture offline information that may be submitted online once connected to the Internet
Consolidate grantee reports at the facility level
Ability to capture quarterly activity variances of planned against actual activity implementation
Able to produce reports based on USAID and GRF requirements
Provide different levels of access and security for various users of the system, not limited to access, viewership, oversight, and approval
Online web-based dashboard presenting summarized statistics of grantee performance, accessible from any device
2. Provide regular updates on the development of the system.
Deployment
Rollout the system to grantees supported by INSPIRE, including user training
Provide regular and timely technical support to users of the system
Provide necessary changes to the system depending on user complaints and experience
Submission Instructions
Proposals should be emailed to: [email protected] and addressed to:
Mr. Glen A. de Castro
Executive Director
Gerry Roxas Foundation, Inc.
Level 3 Cyberpark 1
General Aguinaldo Ave.
Araneta City, Quezon City
Deadline of Submission: 5:00 PM, 10 February 2023
Note: Please send quotations exclusive of 12% VAT.
Only short-listed suppliers will be contacted by GRF.