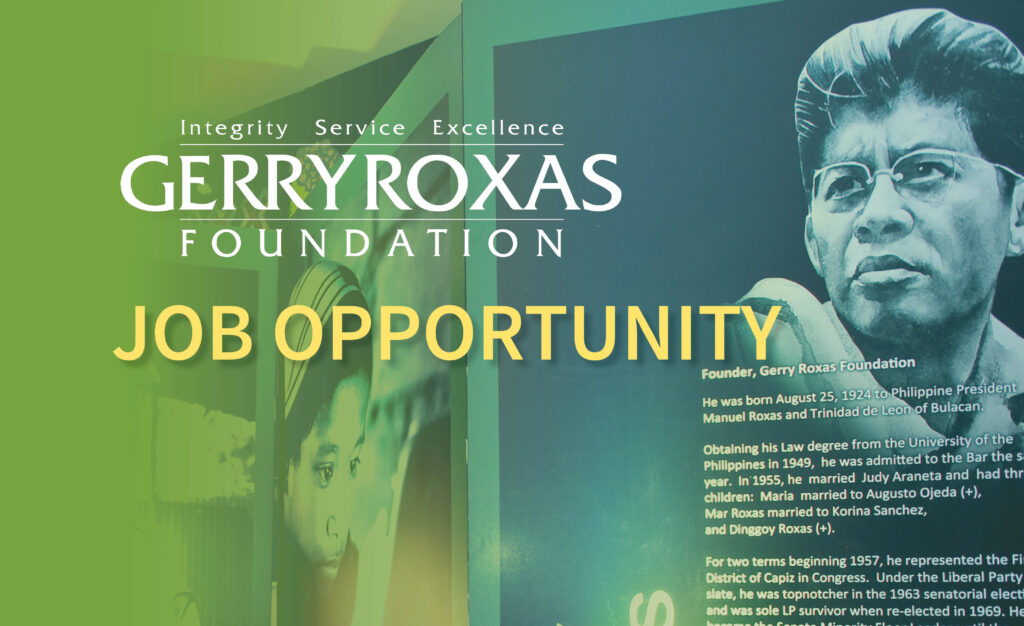 Position: Human Resource Officer
Area of Assignment: Quezon City
Deadline of Application: June 16, 2023
About the Post
The Gerry Roxas Foundation seeks a Human Resource Officer to assist the HR/Administrative Manager in implementing and monitoring personnel policies and procedures to achieve the foundation's objectives.
Duties and Responsibilities
Specifically, the HR Officer performs the following functions:
Facilitates the recruitment, selection, and placement of required personnel;
Orients employees on policies and procedures and ensure compliance;
Assists the HR/Administrative Manager in the following tasks:

Facilitating periodic staff performance evaluation
Initiating career/staff development plans;
Reviewing and updating HR policies and procedures;
Planning and facilitating all GRF personnel-related activities such as training and team buildings;

Reviews employees' individual Daily Time Records (DTR) and prepares the summary of DTRs;
Processes bi-monthly payroll for all staff and prints related reports using an automated payroll system;
Encodes and updates employee data in the payroll system;
Processes monthly payment of SSS, Philhealth, and Pag-ibig remittances and loans; monthly remittance and electronic filing of contributions and loans of SSS, Philhealth, and Pag-ibig;
Facilitates the following processes regarding employee exit documents:

Processing of clearance forms;
Computation of final pay, project completion pay, retirement pay, etc.;
Turn-over of accountabilities to the foundation;
Filing at the Department of Labor and Employment for legally separated employees;
Quit Claim
Facilitate exit interviews

Organizes and maintains the 201 files of all the GRF employees and the Daily Time Records;
Processes health card and accident insurance coverage of staff and addresses any concerns related to these benefits;
Performs other tasks assigned by the HR/Administrative Manager.
Qualifications
Candidate must have a Bachelor's degree in human resources, business, or any related field;
Minimum of five (5) years of relevant work experience as an HR Officer;
Excellent knowledge of various HR functions such as pay & benefits, recruitment, onboarding, evaluation, and training & development;
Good understanding of labor laws;
Proficiency in MS Office;
Excellent organizational and time-management skills;
Excellent communication and interpersonal skills;
Good decision-making and problem-solving skills; and
Strong ethical standards and demonstrated personal and professional integrity.
Submission Instructions
Interested applicants should send their Curriculum Vitae and a cover letter highlighting relevant experiences. Include a list of three references with contact information. Only short-listed applicants will be contacted by GRF.
Send applications via email to: [email protected].
The deadline for applications is at 5:00 PM, June 16, 2023.
Email subject format: [Position applied for]_[Lastname, Firstname]