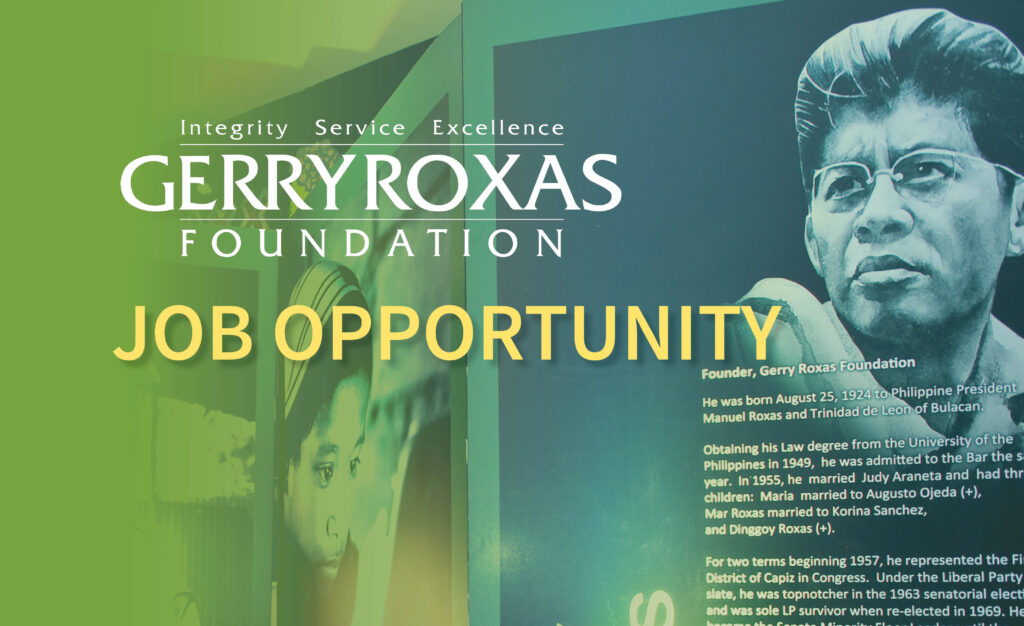 Position: Short-term Technical Assistance for Mapping the Forest Landscape Restoration Initiatives in the Philippines
Area of Assignment: Quezon City
About the Project
The United States Agency for International Development (USAID) awarded the Gerry Roxas Foundation (GRF) a five-year cooperative agreement to implement the INSPIRE Project – Investing in Sustainability and Partnerships for Inclusive Growth and Regenerative Ecosystems. It is a grant facility that supports various environmental efforts by civil society groups in the Philippines. INSPIRE seeks to 1) improve the way that natural resources and the areas from which these are derived are governed and 2) address the drivers of natural resources insecurity by addressing both the supply of and demand for natural resources through the reduction of environmental crimes and unsustainable environmental practices and the sustainable management of the natural resources sector. One of the key strategies of the Project is increasing transparency and accountability of various stakeholders, especially the government, on how natural resources are managed.
Description of Service
The INSPIRE Project is currently seeking a Consultant who will perform research and analysis of forest landscape restoration (FLR) in the Philippines (in excel, maps, shapefiles, etc.), and attend meetings with FLR stakeholders when necessary. The consultant will provide innovative ideas, suggestions, and strategies to the GRF INSPIRE team and prospective grantees, online or face to face as necessary within the person days indicated herein.
Building on various FLR initiatives, the DENR FLR workplan, and the LDN targets, the objective of this activity is to consolidate FLR gains to 1) support the development of a unified national FLR agenda mutually agreed targets with various stakeholders, cascading from the national to the local level with baseline data on FLR across the country in preparation for the National FLR Conference, and 2) help set a direction in selecting INSPIRE-funded FLR projects based on location, type, and strategy.
The Consultant will provide information about FLR initiatives in the country for the past 20 years (2002-2022) and process these into maps, verify them thru land cover change analysis, and overlay these maps with the land degradation maps. This will provide INSPIRE with information on which areas have successes in terms of FLR; areas with little investment in FLR; and thus, will help set targets for future FLR efforts in the Philippines, including the selection of grantees for the next cycle.
Period of Performance
The estimated performance period is from January 3 to June 30, 2023.
Expected Output/s:
Inception Report including agreed methodology (5% of overall deliverables/estimated cost)
Monthly Report on the progress of data collection and processing (80% of overall deliverables/estimated cost)
Final output and Terminal Report on the data and methodology used in mapping FLR initiatives in the Philippines (15% of overall deliverables/estimated cost)
Qualifications:
University degree in Forestry, Environmental Science, Agricultural Science, and related fields. A Master's degree is an advantage.
Relevant work experience in GIS, forest and landscape restoration studies, etc.
Must have significant experience with mapping related to the Philippines forestry sector.
Ability to work independently, with minimum supervision.
Interested applicants should send their Curriculum Vitae and a cover letter highlighting relevant experiences. Include a list of three references with contact information. Only short-listed applicants will be contacted by GRF. Terms of reference will be provided to Short-listed applicants.
Send applications via email to: [email protected]
Deadline of applications is at 5:00PM, December 29, 2022.