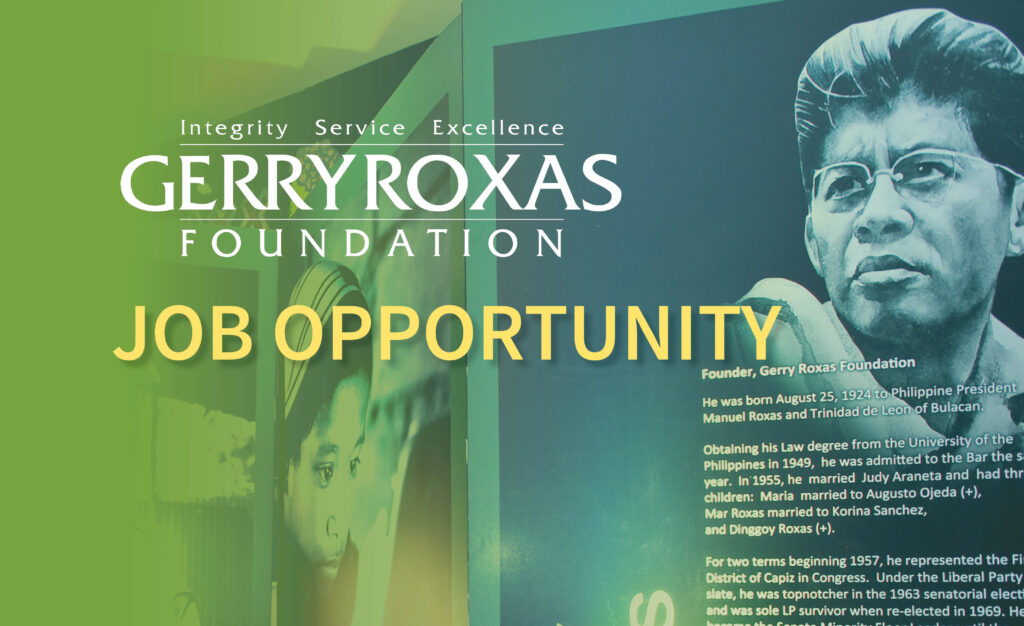 Position: Administrative Assistant
Area of Assignment: Quezon City
Deadline for Applications: Feb. 15, 2023
The Gerry Roxas Foundation is seeking for an Administrative Assistant who will provide administrative and logistics support to the Executive Office, support service units, and other programs of the Foundation.
Duties and Responsibilities
Receives and routes all incoming and outgoing correspondence; tracks important documents especially those requiring urgent attention;
Assists with the needs of the staff during meetings such as meals, beverages, equipment, supplies, and other requirements;
Arranges travel requirements for the staff, consultants, partners, and participants for conferences, meetings, and project events;
Assists the HR Manager in sending reminders for timekeeping report submissions and other announcements;
Provides event management and logistics support in Foundation and project activities;
Processes monthly payment of SSS, Philhealth, and Pag-ibig remittances and loans; monthly remittance and electronic filing of contributions and loans of SSS, Philhealth, and Pag-ibig;
Prepares requests for quotations, conducts bid evaluation, prepares canvass price analysis, and conducts due diligence (reference checks and site visits)'
Maintains proper documentation to verify that all procurements comply with GRF policies;
Processes and monitors payments for hotel accommodations, vehicle rentals, venues, catering services, communication, utility expenses, and other administrative expenses;
Assists the Administrative Manager in the renewal of business permits and accreditation with government agencies and other partners
Supervises the Utility Staff and ensures that workstations and meeting rooms are clean, neat, safe, and conducive for working;
Keeps track of the inventory of office supplies;
Responsible for the safekeeping, custodianship, maintenance, and issuance of office equipment and other properties.
Conducts annual physical inventory of office furniture and equipment and prepares the annual physical inventory report.
Responsible for maintenance and custodianship of petty cash fund.
Performs cashiering functions such as issuance of official receipts for payments or donations received.
Perform other tasks as may be required.
Qualifications
Candidate must possess a Bachelor's/College Degree in Business or any related field;
Recent graduate or has one-year relevant working experience as an Administrative Staff;
Good communication and interpersonal skills;
Ability to work well under pressure;
Flexible and has the ability to multi-task;
Has a strong sense of responsibility and desire to get things done properly;
Must have strong organizational skills and the ability to maintain confidentiality; and
With unquestionable integrity and does not have any record of fund mismanagement.
Interested applicants should send their Curriculum Vitae and a cover letter highlighting relevant experiences. Include a list of three references with contact information. Only short-listed applicants will be contacted by GRF.
Send applications via email to: [email protected].
Deadline for applications is at 5:00PM, February 15, 2023.
Email subject format: [Position applied for]_[Lastname, Firstname]