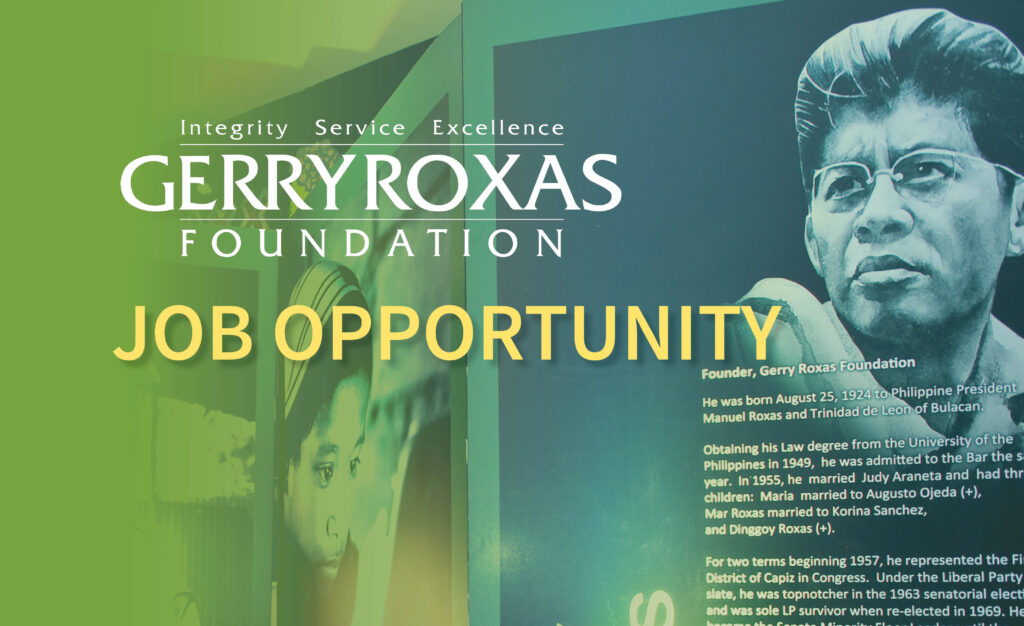 Position: Executive Assistant
Area of Assignment: Quezon City
Deadline of Application: 09 February 2023
Duties and Responsibilities
Under the Executive Director's (ED) direction, the Executive Assistant (EA) performs administrative duties requiring initiative, independence, and confidentiality in areas of office management and all areas of operations. The EA is expected to provide high-level administrative support to the ED and the GRF Programs as a whole by doing data gathering, preparing summary reports, handling information requests, and managing the flow of information between the ED and the GRF personnel.
Specific duties and responsibilities:
Manages and maintains the Executive Director's schedules by arranging appointments for meetings, conferences, and travels and assists in the liquidation of cash advances;
Coordinates and works with the GRF staff in organizing and prioritizing foundation and project activities that require the ED's immediate attention or action;
Coordinates with GRF personnel on technical reports and other reports as directed by the ED and the Administrative staff on the ED's related travels and meeting requirements;
Supports relevant research as support to the Executive Director's presentations and reports;
Records, drafts and distribute minutes of meetings; correspondence, communications, and other documents required by the ED;
Assists in the consolidation of quarterly and annual reports;
Assists in organizing meetings of the Board and EXCOM and in the preparation of invitation letters, notices, agenda, and other materials;
Maintains scheduling calendars using prescribed online platforms and monitors timeline and deadline of tasks or deliverables and submission of reports.
Coordinates with the Knowledge Management Manager in archiving all foundation-related records, reports, presentations, collated materials, and other significant documents;
Schedules and disseminates regular staff meetings and prepares minutes of meetings;
Maintains a directory of networks, files correspondence, minutes of meetings, and other materials needed by the ED and establishes a system for easy retrieval, when needed; and,
Performs other tasks as required by the Executive Director.
Qualifications
Bachelor's Degree in Business, Social Sciences, or any related field;
Minimum two (2) years experience working in a similar position of providing technical support at an executive level;
Excellent understanding of social development issues in the Philippines;
Strong organizational skills that reflect the ability to perform and prioritize multiple tasks seamlessly with excellent attention to detail;
Proven record in delivering timely and high-quality outputs;
Excellent written and spoken communication skills;
Well-developed interpersonal skills and the ability to build relationships with stakeholders, including staff, external partners, and donors;
Demonstrated proactive approaches to problem-solving with strong decision-making capability;
Highly resourceful team player, with the ability to also be effective independently; and,
Proven ability to handle confidential information with maturity and discretion.
Interested applicants should send their Curriculum Vitae and a cover letter highlighting relevant experiences. Include a list of three references with contact information. Only short-listed applicants will be contacted by GRF.
Send applications via email to: [email protected].
Deadline for applications is at 5:00PM, February 9, 2023.
Email subject format: [Position applied for]_[Lastname, Firstname]