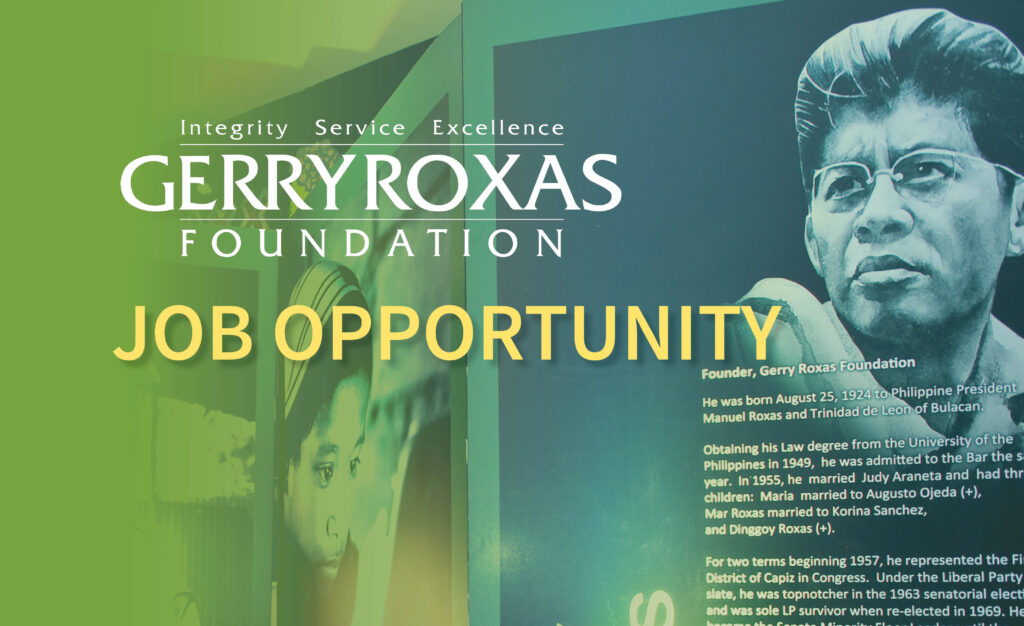 Position: Financial Monitoring Officer
Official Work Station: Quezon City
Deadline of Application: September 11, 2023
About the Project
The United States Agency for International Development (USAID) awarded the Investing in Sustainability and Partnerships for Inclusive Growth and Regenerative Ecosystems "INSPIRE" Project to the Gerry Roxas Foundation on September 14, 2021. INSPIRE is a five-year project that aims to contribute to NRSG's goal of advancing natural resource resilience, security, and governance through the increased participation and critical engagement of CSOs, media, indigenous peoples (IPs), local communities, and the private sector.
About the Post
Under the supervision of the Financial Management and Compliance Specialist (FMCS), the Financial Monitoring Officer (FMO) has the primary responsibility of conducting financial monitoring of project sub-awards and grantees, ensuring that their financial management system is in accordance with all laid down requirements of the grant agreement.
Duties and Responsibilities
Specifically, the FMO performs the following functions:
Assist the FMCS in reviewing cost proposals of applicants for sub-recipients or sub-awards;
Review annual work and financial plans of sub-recipients or sub-awards;
Review and ensure the timely submission of sub-grantee requests for cash advances in accordance with the approved annual work and financial plan;
Review and ensure the timely submission of expenditure/liquidation reports submitted by sub-recipients or sub-awards;
Perform financial monitoring of sub-awards to review financial transaction records and processes to ensure that grant funds are efficiently utilized following the budget based on cost application guidelines and in compliance with USAID rules and regulations;
Submit regular monitoring reports to FMCS and highlight any critical financial risks identified during the monitoring review of grantees' financial records;
Work with the FMCS for the timely releases of cash advances or reimbursements to grantees;
Participate in the work and financial performance review of grantees' activities and assist in the possible revision of activity plans and budgets;
Prepare financial inputs to the project's quarterly progress reports (QPR) and submit them to FMCS for consolidation;
In coordination with the FMCS, implement financial and administrative control systems and tools to ensure transparency and accuracy in reporting of contractual obligations and deliverables of grantees;
Participate in determining needs and in administering training on capacity building of grantees for the continuous and efficient improvement of grantees' processes, procedures, and systems;
Responsible for providing guidance to grantees in the close-out process and requirements;
Ensure that a clear audit trail is in place particularly for close-out review and recipient contracted audit; and
Perform other tasks as required by the FMCS.
Qualifications
With a Bachelor's degree in Accountancy, preferably a Certified Public Account (CPA);
Minimum of three (3) years of relevant experience and knowledge of USAID programmatic financial compliance and reporting procedure is preferred;
Well-developed keyboard and computer skills with advanced working knowledge of MS Office, internet, and email applications; and
Strong analytical and communication skills and ability to work well under pressure.
Submission Instructions
Interested applicants should send their Curriculum Vitae and a cover letter highlighting relevant experiences. Include a list of three references with contact information. Only short-listed applicants will be contacted by GRF.
Send applications via email to: [email protected].
The deadline for applications is at 5:00 PM, September 11, 2023.
Email subject format: [Position applied for]_[Lastname, Firstname]