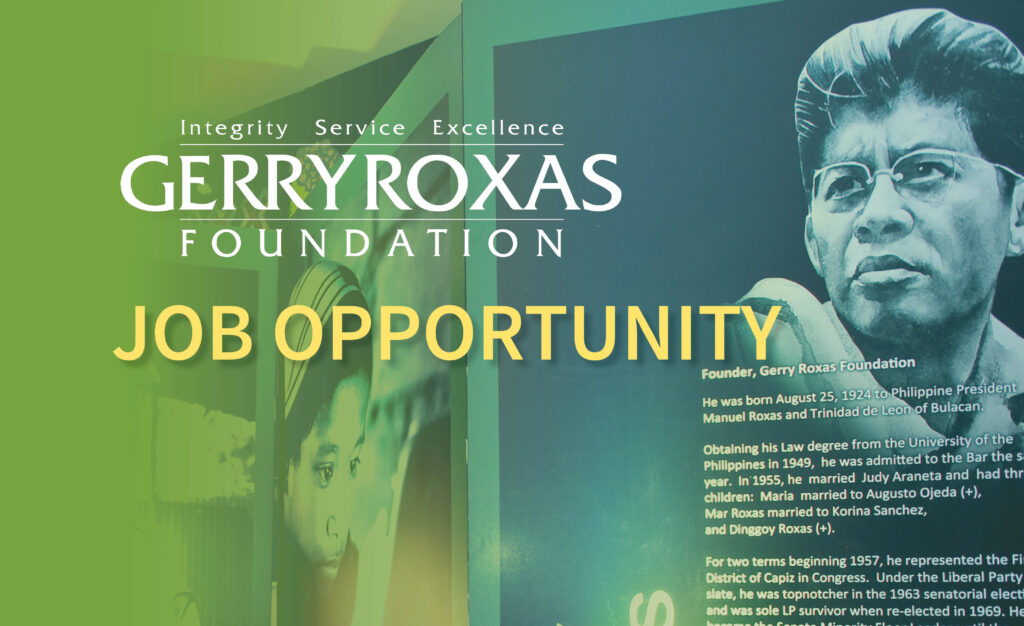 Position: Project Assistant
Official Work Station: Quezon City
Deadline of Application: November 24, 2023
About the Project
The United States Agency for International Development (USAID) awarded the Investing in Sustainability and Partnerships for Inclusive Growth and Regenerative Ecosystems "INSPIRE" Project to the Gerry Roxas Foundation on September 14, 2021.  INSPIRE is a five-year project that aims to contribute to NRSG's goal of advancing natural resource resilience, security, and governance through the increased participation and critical engagement of CSOs, media, indigenous peoples (IPs), local communities, and the private sector.
About the Post
The Project Assistant provides support to the Conservation Academy's Media and Knowledge Hub by keeping track and organizing knowledge products and communication materials produced at the grantee and facility levels and managing the flow and sharing of these products among identified users.
Duties and Responsibilities
Specifically, the Project Assistant shall perform the following functions:
Curate and organize photos, videos, social media posts, audio-visual and other information materials provided by grantees, and those taken/prepared by the INSPIRE team and consortium partners during monitoring visits and events. He/she will closely coordinate with the concerned INSPIRE teams in the collection and archiving of these materials.
Coordinate with the Technical and MEL Team in the tracking and collection of relevant training and activity designs/reports, research and assessment reports, learning/knowledge products, documentation of/presentations on good conservation practices/approaches, and stories of interest in the course of implementing grant agreements and work plans. Ensure the completeness of these documents – i.e., ensure that they are properly dated formatted, and marked, as well as the inclusion of proposed reference citations.
Regularly monitor selected websites, such as SAGE Publications and ScienceDirect, among others to identify and tag abstracts/research studies and publications on biodiversity conservation and natural resource management that can potentially be shared with the grantees. Coordinate with the grants team in the distribution of the collated abstracts to INSPIRE grantees.
Coordinate with the technical team for the preparation of executive summaries or annotations of research studies produced with support from INSPIRE.
Coordinate with the INSPIRE IT Team in maintaining a cloud-based platform for the storage of these materials. Establish a system for periodic updating, and easy retrieval, on-demand (online) access by, and sharing by target users.
Perform other tasks as may be required.
Qualifications
Bachelor's Degree in Social Sciences or any related field;
Minimum two (2) years experience working in similar tasks of organizing information and communication materials, and publications using a digital framework;
With exposure (academic or work experience) to biodiversity and resource management issues in the Philippines;
Strong task organization skills that reflect the ability to systematically perform multiple tasks with excellent attention to detail;
Highly resourceful and with very good written and oral communication skills; and
Well-developed interpersonal skills; a team player with the ability to be effective independently.
Submission Instructions
Interested applicants should send their Curriculum Vitae and a cover letter highlighting relevant experiences. Include a list of three references with contact information. Only short-listed applicants will be contacted by GRF.
Send applications via email to: [email protected].
The deadline for applications is at 5:00 PM, November 24, 2023.
Email subject format: [Position applied for]_[Lastname, Firstname]