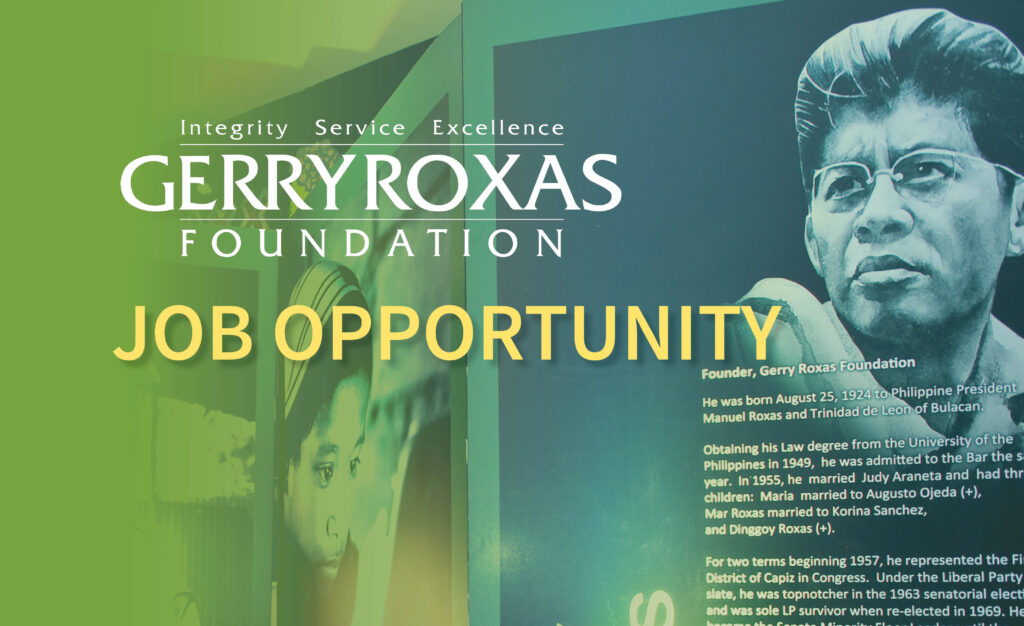 Position: Finance Officer
Area of Assignment: Quezon City
About the Project
The United States Agency for International Development (USAID) awarded the Investing in Sustainability and Partnerships for Inclusive Growth and Regenerative Ecosystems "INSPIRE" Project to the Gerry Roxas Foundation on September 14, 2021. INSPIRE is a five year-project that aims to contribute to NRSG's goal of advancing natural resource resilience, security, and governance through the increased participation and critical engagement of CSOs, media, indigenous peoples (IPs), local communities, and the private sector.
About the Post
The Finance Officer is responsible for the processing and recording of financial transactions of the project in accordance with GRF policies and procedures ensuring due diligence and compliance with USAID contract provisions, rules, and regulations.
Duties and Responsibilities
Specifically, the Finance Officer:
Reviews and records financial transactions and ensures completeness of supporting documents, accurateness of accounting entries and consistent application of accounting principles and standards, internal control guidelines and procedures.
Maintains the accounting records and generates monthly Trial, General and Subsidiary Ledger Accounts, reconciliation statements and other schedules or reports using the computerized accounting system.
Assists the Finance Manager in the preparation and timely submission of monthly expenditure reports, annual financial plans and other reports required by USAID.
Prepares bank reconciliation and ensures the timely remittances and submission of mandatory reports to government regulatory agencies such as BIR.
Assists the Finance Manager in facilitating the Recipient Contracted Audit (RCA) and project close-out requirements.
In coordination with the administrative staff, reconciles list of assets recorded per books against the commodity tracking.
Performs other related tasks as maybe required.
Qualifications
Candidate must have a Bachelor's degree in Accountancy or any related field;
Minimum of three (3) years of relevant work experience in similar position;
Demonstrated personal and professional integrity;
Proficiency in Excel and MS Word;
Strong analytical and communication skills; and
Ability to work well under pressure.
Submission Instructions
Interested applicants should send their Curriculum Vitae and a cover letter highlighting relevant experiences. Include a list of three references with contact information. Only short-listed applicants will be contacted by GRF.
Send applications via email to: [email protected].
Deadline for applications is at 5:00PM, October 16, 2022.
Email subject format: [Position applied for]_[Lastname, Firstname]