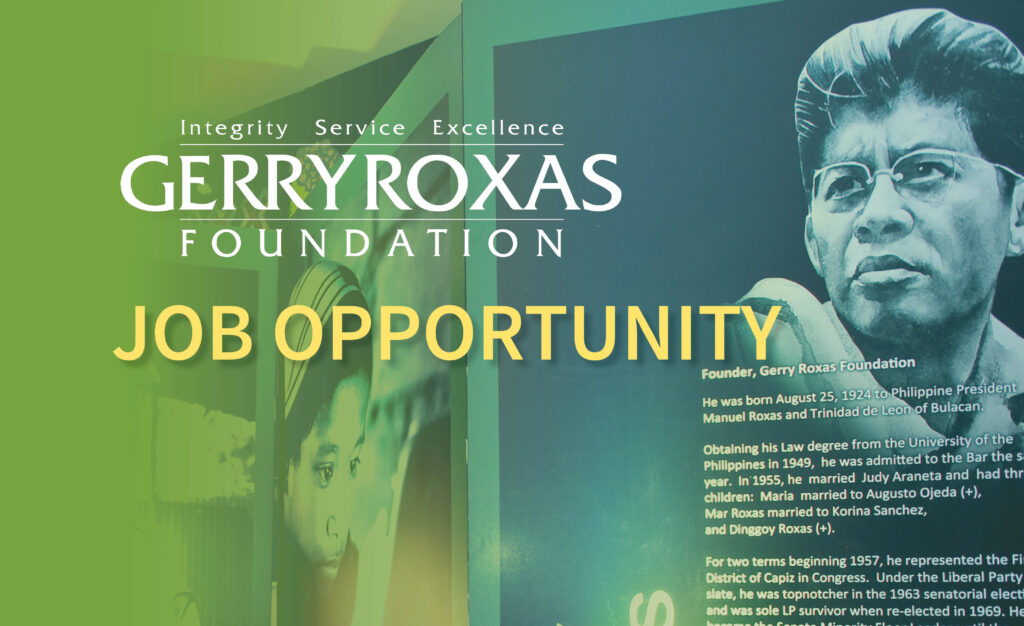 Position: Monitoring, Evaluation, Accountability and Learning (MEAL) Officer
Area of Assignment: Quezon City
About the Project
The United States Agency for International Development (USAID) awarded the Investing in Sustainability and Partnerships for Inclusive Growth and Regenerative Ecosystems "INSPIRE" Project to the Gerry Roxas Foundation on September 14, 2021. INSPIRE is a five year-project that aims to contribute to NRSG's goal of advancing natural resource resilience, security, and governance through the increased participation and critical engagement of CSOs, media, indigenous peoples (IPs), local communities, and the private sector.
About the Post
The MEAL Officer will work closely with the Monitoring, Evaluation, Accountability and Learning (MEAL) Specialist in implementing and improving its performance management system to assess the effectiveness and outcomes of project- supported activities.
The MEAL Officer shall establish, manage and strengthen accountability and continuous learning through capacity building of partners and grantees, stimulate meaningful participation, communicate program results, and strategize activities leading to the development of the Conservation Academy. The MEAL Officer will oversee all learning and development programs supported by INSPIRE.
Duties and Responsibilities
Specifically, the MEAL Officer shall:
Assist in performing, documenting, and sharing results of projects supported under INSPIRE.
Conduct relevant research, assemble, and analyze data for INSPIRE presentations and reports.
Participate in field activities required in project monitoring and evaluation.
Coordinate with key personnel for timely and high-quality reporting of project progress and results and other project requirements and their dissemination to the public.
Design and implement training and learning programs of INSPIRE.
Proofread and copyedit project reports and other outputs, including training modules.
Assist in the formulation of learning objectives and development of training plans, procedures, & programs to meet specific training needs.
Assist in evaluating and analyzing training needs of grantees and develop methods for the assessment and evaluation of training effectiveness.
Coordinate with key personnel and oversee INSPIRE's research grants.
Perform other tasks as may be required by the MEAL Specialist.
Qualifications
Bachelor's degree in Behavioral Science or any other Social Science course;
Minimum of three-year work experience in developing and implementing monitoring, evaluation, accountability, and learning frameworks and mechanisms with community participation and enabling community engagement across the program cycle;
Has relevant training on facilitating age, gender, and ability sensitive consultations, participatory accountability, and feedback mechanisms, and knowledge management;
Has critical thinking, planning, organizing skills and networking skills;
Thorough knowledge of principles and current approaches to monitoring and evaluation in development programs;
Excellent analysis and writing skills; concept notes and program design documents (including logical frames);
Excellent verbal, and interpersonal communication skills; and
Demonstrated ability to transfer knowledge to diverse audiences through training, mentoring and other formal and non-formal methods.
Submission Instructions
Interested applicants should send their Curriculum Vitae and a cover letter highlighting relevant experiences. Include a list of three references with contact information. Only short-listed applicants will be contacted by GRF.
Send applications via email to: [email protected]. Deadline for applications is at 5:00PM, October 16, 2022.
Email subject format: [Position applied for]_[Lastname, Firstname]