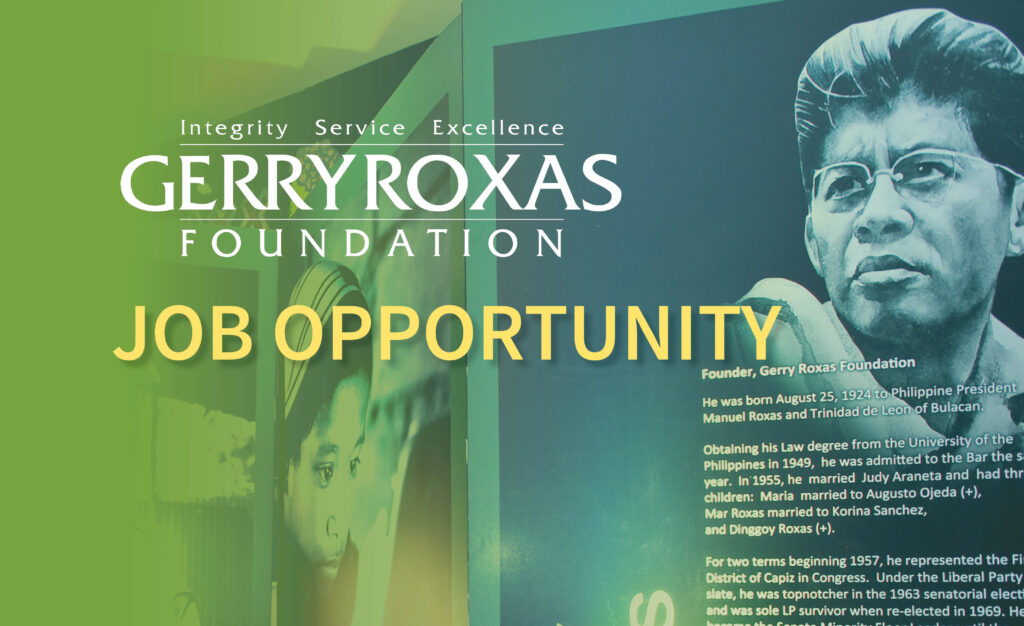 Position: Grants Assistant
Area of Assignment: Quezon City
Deadline for Applications: Feb. 15, 2023
About the Project
The United States Agency for International Development (USAID) awarded the Investing in Sustainability and Partnerships for Inclusive Growth and Regenerative Ecosystems "INSPIRE" Project to the Gerry Roxas Foundation on September 14, 2021. INSPIRE is a five-year project that aims to contribute to NRSG's goal of advancing natural resource resilience, security, and governance through the increased participation and critical engagement of CSOs, media, indigenous peoples (IPs), local communities, and the private sector.
About the Post
The Grants Assistant will provide administrative support to the Grants Management Team in the implementation of the grant-making process of the INSPIRE Project.
Duties and Responsibilities
Specifically, the Grants Assistant shall perform the following functions:
Provide administrative assistance to the Grant Management Team in organizing and managing the activities related to grantee monitoring and in the implementation of capacity-building activities for grantees.
Provide support to the Grants Management Team in the production of regular monitoring reports, periodic reports, and other special reports, as appropriate.
Provide support to the INSPIRE team in organizing activities related to the issuance of Grants Solicitations documents including the organizing of pre-bid conferences
Arrange and coordinate evaluation meetings and manage the preparation of materials required.
Assist the Grants Management Team in preparing grant processing records or tracking from responses to solicitation, memorandum of negotiations, and signed agreements, in line with the Grants Manual.
Assist the Team in the final packaging of approved technical applications.
Coordinate with Technical and Financial Monitoring Officers for the submission of progress reports in accordance with the grant agreement and the approved work and financial plan.
Assist the Grants Management Team in their travel arrangements, cash advances and liquidations, scheduling of meetings, and in coordinating with the INSPIRE Team and grantees.
Provide support in processing grantee requests such as procurement of equipment, in coordination with the Procurement Officer.
Perform other tasks as may be required by the Grants Specialist.
Qualifications
With Bachelor's degree in relevant fields such as Business Management, Economics, Community Development, or any related field;
Minimum of one (1) year work experience; fresh graduates will also be considered;
Must have strong English communication, comprehension, interpersonal, and public relations skills to enable professional interaction with a range of people including senior management and staff, partners, and other stakeholders;
Must have a well-developed keyboard and computer skills with advanced working knowledge of MS Office, internet, and email applications;
Proven record in the timely submission of high-quality outputs; and
Must have strong organizational skills and the ability to maintain confidentiality.
Interested applicants should send their Curriculum Vitae and a cover letter highlighting relevant experiences. Include a list of three references with contact information. Only short-listed applicants will be contacted by GRF.
Send applications via email to: [email protected]
The deadline for applications is at 5:00 PM, February 15, 2023.
Email subject format: [Position applied for]_[Lastname, Firstname]