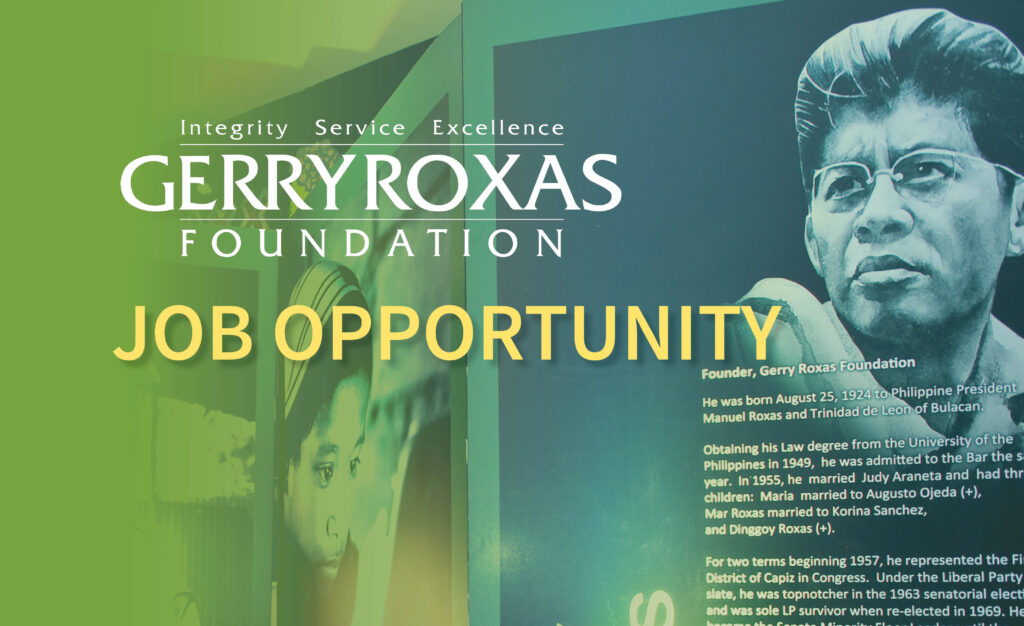 Position: Technical Monitoring Officer for Coastal and Marine Ecosystems
Area of Assignment: Quezon City
About the Project
The United States Agency for International Development (USAID) awarded the Investing in Sustainability and Partnerships for Inclusive Growth and Regenerative Ecosystems "INSPIRE" Project to the Gerry Roxas Foundation on September 14, 2021. INSPIRE is a five year-project that aims to contribute to NRSG's goal of advancing natural resource resilience, security, and governance through the increased participation and critical engagement of CSOs, media, indigenous peoples (IPs), local communities, and the private sector.
About the Post
The Technical Monitoring Officer (TMO) for Coastal and Marine Ecosystems will work closely with the INSPIRE Project personnel for Sustainable Seascapes and will support its attendant activities in all project-sites, primarily for the West Philippine Seascapes Program and coastal and marine-related matters for the Conservation Academy. The TMO will also be in charge of proactively providing technical assistance to partners in the application of USAID guidelines in grants management and implementation. The TMO will assist in the technical monitoring by serving the first line of review of all partner deliverables including financial and technical reports.
Part of the TMOs' responsibility is to keep abreast of all relevant developments, trends, phenomena, and other factors that might impact the implementation of the INSPIRE project.
Duties and Responsibilities
Specifically, the TMO performs the following functions:
In consultation with the supervisor, conducts field validations, environmental screenings, environmental monitoring and management of potential and approved biodiversity projects.
Reviews and appraises proposals submitted by potential partners.
Reviews calendar of activities, accomplishment reports submitted by partners.
Monitors grants for legal, financial, and program compliance including but not limited to ensuring the grant requirements are correctly documented.
Monitors risk management at sub-awardee level and informs the INSPIRE Team of critical risks identified during monitoring activities.
Monitors progress of partners' deliverables based on targeted outputs in the grant agreement and against targets set in the Performance Monitoring Plan.
Participates in weekly substantive check-ins with partners.
Develops training materials and standard operating procedures for biodiversity grants management.
Promptly produce timely and quality activity and progress reports.
Analyzes trends and patterns in the grants implementation and capture potential stories of people, events, practices or other phenomena that INSPIRE projects catalyze;
Perform other functions as required.
Qualifications
With Bachelor's or advanced degree in fisheries, marine or environmental science, development studies or a related discipline is an advantage;
Minimum of five (5) years relevant experience working with environment-related projects focusing on marine ecosystems;
Strong knowledge of programmatic, compliance, monitoring and reporting procedure is preferred;
Familiarity with biodiversity (landscapes and seascapes) project approaches, requirements and processes;
Knowledge and experience on the Ecosystems Approach to Fisheries Management framework and processes;
Experience working with grassroots and/or community-based organizations; and
Demonstrated ability to communicate with key stakeholders in the private sector, the government and non-government organizations.
Licensed SCUBA Diver, at least Open Water Certification with minimum 30 logged dives, is preferred and an advantage.
Submission Instructions
Interested applicants should send their Curriculum Vitae and a cover letter highlighting relevant experiences. Include a list of three references with contact information. Only short-listed applicants will be contacted by GRF.
Send applications via email to: [email protected].
Deadline for applications is at 5:00PM, November 3, 2022.
Email subject format: [Position applied for]_[Lastname, Firstname]