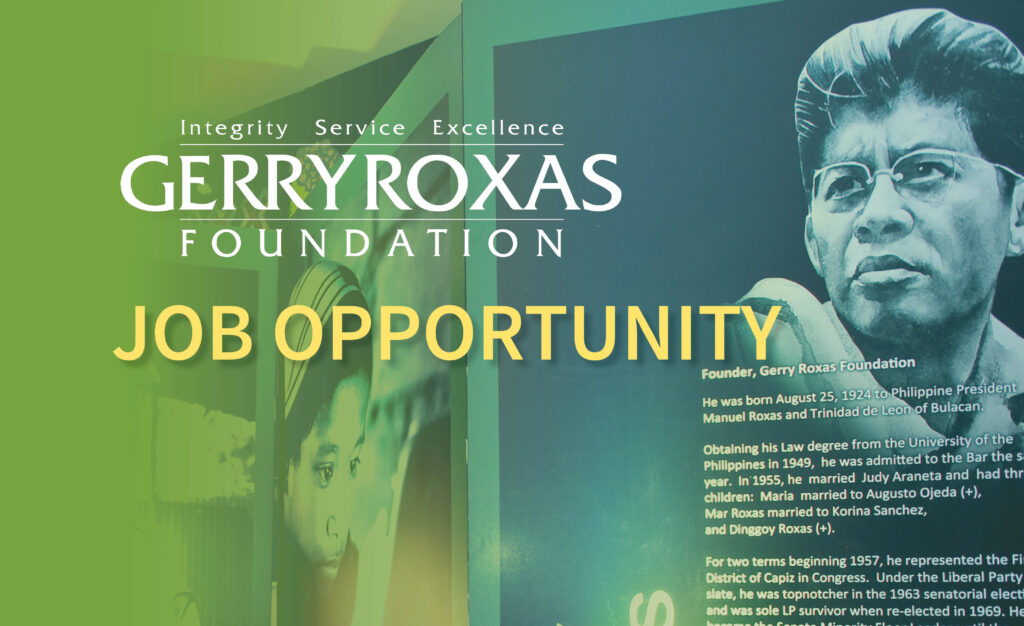 Position: Finance Assistant
Area of Assignment: Quezon City
Deadline of Application: August 10, 2023
Gerry Roxas Foundation is currently seeking a Finance Assistant who will support the day-to-day financial transactions of the Foundation. 
Duties and Responsibilities
Specific duties and responsibilities:
Processes online transactions such as government remittances, communication allowances, advances of/reimbursement to employees, inter-fund transfers, and other disbursements;
Releases check payments and tracks check releases;
Issues Official Receipts for funds or donations received, refund of excess cash advance of employees and other collections;
Acts as custodian of official receipts and check booklets;
Facilitates the deposit of cash, checks, and processes bank transactions;
Facilitates processing of banking concerns such as updating of bank signatories, preparation of loan schedules and promissory notes;
Maintains files related to bank transactions such as memos, bank and loan statements, and other financial documents;
Updates financial spreadsheets with daily transactions such as daily cash position reports and other schedules;
Prepares and processes other business documents relevant to Finance (i.e. bank-related concerns, memos, requests for payments, reimbursements, etc.);
Monitors outgoing and incoming documents of Finance;
Provides assistance in the compliance of RCA and GRF Annual Institutional Audit requirements;
Tracks donations and issues certificates of donations;
Responsible for the filing and archiving of electronic and hard copies of financial transactions; and
Performs other tasks as may be required by the Finance Officer and Finance Manager.
Qualifications
Must have a Bachelor's degree in Accountancy or any accounting-related course or any business-related course with accounting units;
Recent graduate or has one-year relevant working experience as a Finance or Accounting staff;
Has good computer skills and working knowledge of MS Office, internet, and email applications;
Has strong analytical and communication skills and the ability to work well under pressure; and
With unquestionable integrity and does not have any record of fund mismanagement.
Submission Instructions
Interested applicants should send their Curriculum Vitae and a cover letter highlighting relevant experiences. Include a list of three references with contact information. Only short-listed applicants will be contacted by GRF.
Send applications via email to: [email protected].
The deadline for applications is at 5:00 PM, August 10, 2023.
Email subject format: [Position applied for]_[Lastname, Firstname]